Work Log March 2016
My hubby is in hospital and I want to distract myself from being alone. With too much time on my hands, I try to create new stuff for Michtim: Fluffy Adventures that will really benefit the unique style of the game. Also I've got new tools to use! Ulysses is really helpful when creating tons of formatted text for blog posts and traditional writing. Love it! Check it out!
Finished Stuff
This is the list of all finished tasks so far.
Michtim Dice
There are now custom d6 for use with Michtim. They feature a variant 6 with the note "+Mood" because Mood Markers are gained on the roll of each 6. There is also a prototype of an Emotion dice that could be used for mood swings. Sadly the production of these dice is fairly expensive and it has to wait until a later date (maybe a Kickstarter) to be worthwhile to produce.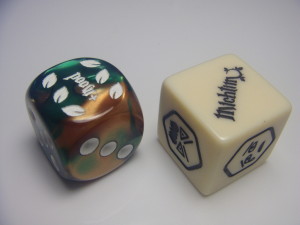 Personality Cards
These cards help in character generation. If people can't decide what to play, they can pick from one of ten unique personality cards. The cards also feature some questions to ask yourself when playing this character. These cards are best combined with the already existing Calling Cards to create neat characters.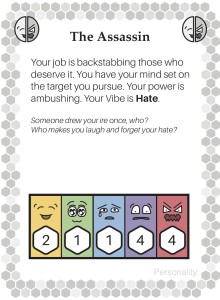 Wound Cards
Michtims can now track wounds with style using Wound Cards. Each card has two faces. One is used for General Wounds (that is, wounds without wound effects). The other face shows rules for a specific wound effect, an illustration and info about the damage type (physical, magic or tech). Tracks run from 1 to 10 in the rare case that a creature has more than 7 Wound Tolerance. The deck contains 3 copies of 12 unique cards, bringing it to a total of 36 Wound Cards. That is the exact same amount as is used for the Calling Cards.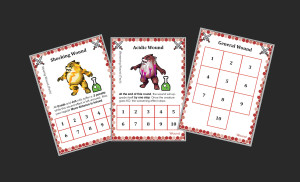 Stuff I'm working on
These are the projects I'm currently working on from time to time, but that are not finished yet.
Updated Core Rules
This is a big update in my opinion. I might want to create a separate book product to combine these into a new tome. For a KS I would instead create a new Core Rules product.
Calling Synergies
There are 66 unique combinations between all twelve Core Callings. I really want to write a short blurb for every combo to get creation started. Of course players can still have unique synergies as well, but to some, maybe a little input is a good idea. I figure that every Calling will receive a spread (double page) detailing each 5-6 Synergies. You would have a spread for the Cook, for example, and then have several synergies that go along with it like:
Cook + ……
Sorcerer = Alchemy. You create miniaturized potions. Friends can now carry up to three potions (instead of one meal). They can take any combination of your potions.
Machinist = Gadgets. You can create Accessories. They offer the usual boost to the attribute, but they have a Restore condition that says "spend an Action to wind up for one turn".
Witch = Shelf Life. Your creations now last for a year and a day. If you decide to close your shop it no longer has an effect on your creations.
You can combine multiple synergies as well. Felixus Honigpfote is a Master Alchemist combining Sorcerer, Witch and Cook into extended potions that last really long and are super handy.
I am very exited for this new feature and it basically just takes a lot of time writing and coming up with new stuff. Maybe I can finish it soon. It would be a blast.
GM Support for running games
I was kinda inspired by Apocalypse World and Mutant: Year Zero lately. I really like no-prep games and Michtim was supposed to be such a game. It turns out that my example adventure is super railroady and is rather used as a starter to show what Michtim can be about. Anyway, my usual style of GMing is also low prep info graphic. I draw boxes with names and draw lines. Basically what Undying calls a Relationship-Map. You should absolutely use such things, they are terrific.
Mutant: Year Zero on the other hand uses Threat Cards (or tables), Artefacts and all sorts of interesting NPCs to build its stories. Some of those things, Michtim does as well. Michtim has an extended NPC section with lots of plot hooks to roll for. I'm not aware that anyone uses these. Most actual plays I've heard about are either completely new content or use the premade adventure Spark's Flight.
Here I'm currently in the ideation phase. Since I do a lot of Cards lately, I might try to stay within this medium… but I'm just exploring options at the moment. For Creatures (I don't like calling anything a monster) I thought about using the typical stat blocks from the adventure, but actually these blocks could be handled by personality cards or hand-waiving stats anyway. Just pick two stats the creature is good at, and you're ready to go. Special Mechanics for creatures can be derived from Callings. The system flourishes when you use existing parts. That way expanding Callings would probably offer a lot of new content for Antagonists as well.
The only thing that's usually different is Health (Wound Tolerance) and Armor as well as Hit-Modifications. Humans have tons of Health, are super resistant to Michtim-inflicted damage but they suffer immense penalties when trying to attack a small (but very fast) Michtim. There you have it. Humans are the game's dragons already. Customize them with Gear and Callings and you're good to go.
Gear Cards / Inventory Book
I tried to showcase how the game works right in the core book. But it helps to have options to pick and discover rather than create at the table. I will probably create new stuff in five areas:
Tools. For every Emotion there should be a lot of tools. Anger-Tools (Weapons) are the easiest to create, based on Wound Effects, but let's not forget the other four Emotions. Grief-Tools could be shields. Joy-Tools are vehicles and Fear-Tools are stealth assets.
Accessories. These offer a one-time effect and a restore condition. Maybe I can make rules for Accessory creation. The Gadget-Synergy (Machinist+Cook) already offers stat-boosting rewindable accessories for example, but there could be a lot of other interesting things. Combine different Restore-Conditions with different effects (maybe based on Callings) and you're good.
Cloaks. Cloaks are pretty easily created. The ones in the core book are basic ones consisting of one option. The new ones will offer two options. One option buys you:

1 Armor to all sources
2 Armor to a specific source
a special ability.

If there's no special, you might increase general Armor by 1 or specific Armor by 2… that way you could become Magic-/Tech-/Physical-Immune for example. The challenge is creating new Cloak effects, but again, these can be related to Callings as well. I want to keep things interchangeable. For example there's this special ability that allows you to hide in plain sight. There might be a stealth-related Calling in the future that does that also.

Potions. One-time usable stuff like Potions should be very helpful. Alchemy and Bocicne are such an important aspect of the game that they might need a small boost by getting their own slot. These could use miniature cards instead of the bigger ones.
Valuables. Coins or Gems could be really useful. These will most likely also use miniature cards.
Creating Adventure Content
I've started to work on several adventure modules, but none comes easily at the moment. I wanted to do stuff for my overarching Restore the Veil campaign, but it just can't be helped. At the moment, I'm not good at creating dungeon maps, so this will have to wait. Maybe some other aspect is more conducive to my abilities. I want to get the most out of my creative abilities.
Boxed Set
I created a mockup of the Boxed Set as I imagine it. At that time I didn't know I would have 36 Wound Cards, so that part of the info is wrong. The general idea is as follows: Michtim requires a lot of stuff to be really useful.
Hardcover Book. I would love to use a traditionally printed and bound hardcover. The Print-on-Demand version is really good and more than sufficient, but when I get the chance to update the game, I'd at least think about doing a traditional print run for a Kickstarter.
Calling Cards. These exist now for a fairly long time and they are really, really useful. When I decide to create new Callings, I will need to update the Calling Card deck as well, bringing it up to around 17-20 unique Cards times 3. That's quite a lot of cards. Maybe I'll just have doubles instead of tripples because of that.
Personality Cards. These are fairly straightforward. Ten unique cards, no multiples.
Wound Cards. As established there are 36 of them.
Mood Markers and Karma Beads. Glass beads. Regular stuff.
Custom Dice. The dice would be one of the reasons a Kickstartered Box Set would make sense. You can of course play the game with just the book, but the set makes more sense to me.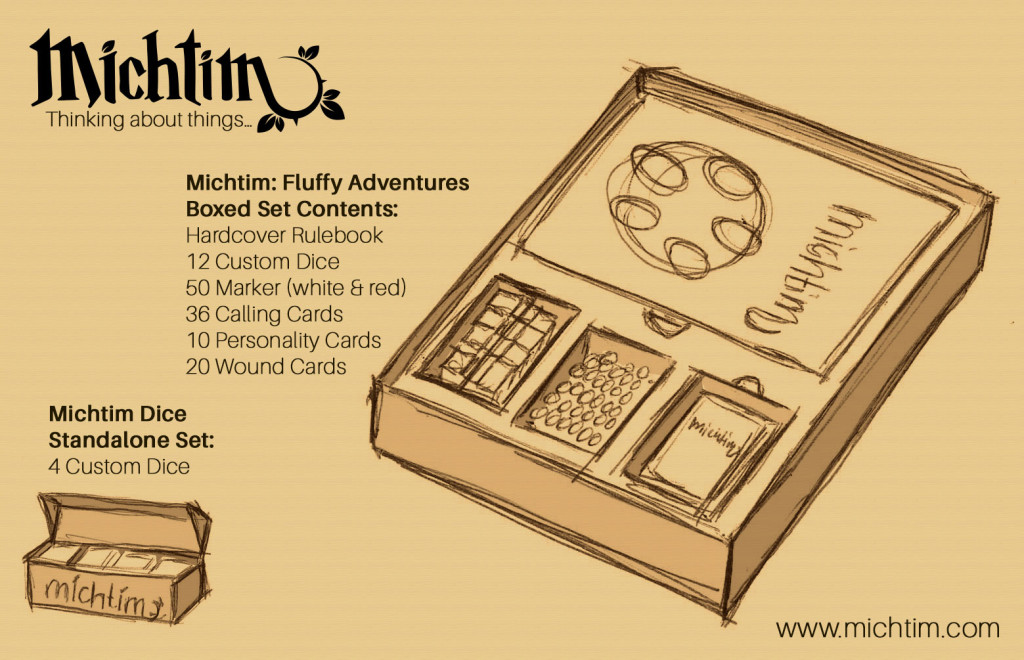 What really bugs me is the amount of money required to do packaging and orders. I will have to do the math before coming up with a KS. Especially the delivery aspect can be pretty tedious I think. Maybe there is a way I can team up with an US fulfillment company that handles printing and packaging? The dice are already an US product for example. Chessex makes them.