Hey there!
If you've already followed me since before Michtim RPG,
you might still remember Ratte Macchiato.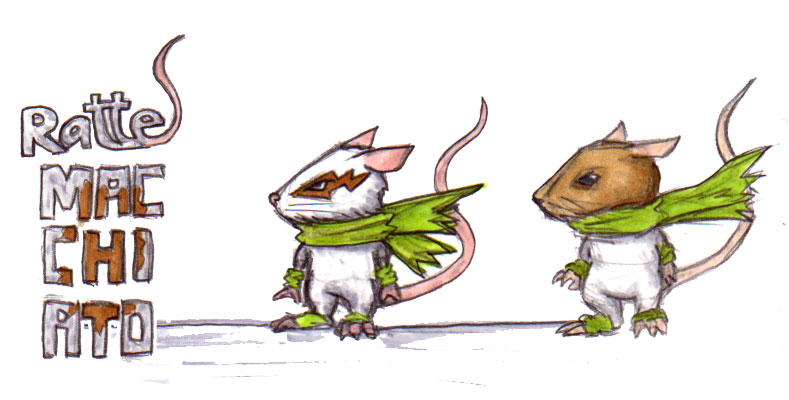 Macchiato is a Michtim, living in exile. Hence his demeaning monicker "Ratte".  In truth, he is an agent of her fluffiness Queen Miyu; but only few Michtims know about that. Most others shun him because of his strange abilities.
Instead of relying on Symbolaya, this little Michtim Warrior harnesses the spark of his very soul. He developed a unique ability, called Dynamo that allows him to charge up and turn into living electricity. (He did so before Cole MacGrath became cool, mind you.)
So what is Dynamo all about, you ask? It is a Sorcerer-Variant that explains all the mechanics with a lightning motive. The Focus action of the Sorcerer becomes a Charge move, making his whiskers spray colorful sparks and arcs of electricity. The utility power of Dynamo is also greatly changed from the Sorcerer template. But here are the details of all aspects:
Blitz (J) Turn yourself into a flash and jump a long distance. Also able to magnetize objects and telekinetically move them around. The senses are also greatly enhanced, utilizing an electromagnetic field to cover great distances.
Invigorating Spark (L) Supercharge the regeneration of wounded friends. Repair mechanical objects at a distance, usually by welding broken parts.
Electromagnetic Shield (G) Create a deflecting shield around a target.
Blending Matrix (F) Charged particles create an optical illusion that hides the Michtim. When Evading the Michtim is deconstructed into digital stuff and instantly reassembled.
Spark Hammer (A) Changes the Michtim into electricity and propels them at enemies. After the Attack, the Michtim bounces back to its former place.
Cyberpathy (Utility): The Michtim can communicate with digital/electric systems. It can even possess a machine temporarily, becoming one with the object and controlling it.